Dear Fellow Iowans:
It is my pleasure to present the 1999-2000 edition of the Iowa Official Register. The Iowa Official Register, commonly known as the "Redbook," has served as a biographical and historical record of our leaders, government and people for one-hundred and eight years. I hope you enjoy this edition of the Redbook. Photographs in this edition are in color, including those of the executive, legislative and judicial officials. Printed copies of the Redbook are sent to every school and library in Iowa creating a permanent record of Iowa state political history for generations to come. In addition, the Redbook is available on the world wide web at www.sos.state.ia.us.
The theme for this edition of the Redbook is "excellence in education." As a former high school teacher and coach, I understand the significance of quality educational opportunities for young people in our state. Each chapter of this Redbook begins with a quote highlighting the importance of education. The quote I chose to open chapter 1 of the Redbook "Education is a Better Safeguard of Liberty Than a Standing Army" is very familiar to me. I have the honor and privilege of reading this quote everyday on my way to work in the beautiful capitol building on an arch in the rotunda right outside the Secretary of State's Office.
The Secretary of State in Iowa as the Commissioner of Elections and State Registrar of Voters is the only statewide elected official specifically charged with the duty of encouraging Iowans to vote. As a candidate for Secretary of State, I pledged to create voter education programs and visit schools in each of Iowa's ninety-nine counties to promote greater voter participation. In the first few months of my term, I have traveled to dozens of schools in each part of the state, and held town meetings over the Iowa Communications Network (ICN) with hundreds of students in an effort to get more young people involved in our democratic process.
As Secretary of State I have created two voter education programs. The Iowa Student Political Awareness Club (ISPAC) is a nonpartisan statewide student organization designed to increase political and community participation among young people in Iowa. You can learn more about ISPAC in chapter 8 of this book. Nearly twenty high school students also learned about state government in an up close and personal way as the first participants in a "Capitol Project". The Capitol Project, which I co-sponsored with First Lady Christie Vilsack, offered these Iowa students a chance to visit Terrace Hill, the State Capitol and other state offices. The students also met with the governor, the lieutenant governor, statewide elected officials, legislative leaders and their own legislators.
I want to thank Marilyn Monroe and Deb Bassett, co-editors of the Iowa Official Register, for their terrific work and tireless dedication to this publication. Also, many thanks to our Redbook interns, Erin Damon and Cassady Fuller, for their valuable assistance.
Sincerely,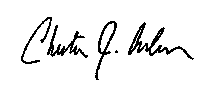 Chet Culver
Secretary of State